JOHN FARRIS – CONTEMPORARY VISIONARY ARTIST
John Farris aka The Crystal Visionary™ works with precious gemstones, natural crystals, and boro glass, to create one-of-kind contemporary crystal art pieces for his world-wide client base.  
Meet John farris
Discover the world of Sedona's Crystal Wizard himself. Discover
Inspired by the universe
In 2010, John took his first step on a journey into high vibrational crystal jewelry amulets and talisman. No thought of making jewelry had entered his mind, yet after purchasing an amulet from a friend's boutique, he fell in love, only to learn that he'd have to return it. The amulet actually belonged to the shop owners' Beloved!

Heartbroken, he said to himself, "I shall learn how to make one", and quickly realized that he was being Divinely Guided with Codes and Frequencies, resulting in creations featuring intricate woven adornments, high vibatrional crystals, wrapped in sterling and gold, that moved people deeply, in mysterious ways.

His amulets have since been tested using radionic's machines and confirmed to possess a self sustaining vitality rating. Meaning, they are emanating energy from the coils and weaves, amplifying the vibrations from the crystals he chooses for each amulet. Clients routinely comment on the many positive tangible feelings they receive while wearing his pieces along with general sensations of wellness and aliveness.

John's pendants organically unfold purely from his intuition. He makes no design plans. Each gemstone and crystal is meticulously enrobed with heart opening, sweet energy to activate vitality and wellness. John's motivation as an artist is to be of service to the world by creating beauty while uplifting the Soul. 
John, The Crystal Visionary™ as he is known, is pioneering new ways to incorporate high vibrational energies through the use of million-year-old crystals, dancing light reflections, and crystalline components.
His much beloved crystal creations have been featured in Andrea Smith Gallery, Atlantis Gallery, Peace Place, Crystal Magic, the Melting Point Glass Gallery, and many others. John exhibited as a finalist, at the Artistar Jewels contest during the 2019 Milan Fashion Week. He was also awarded an exclusive teaching role at the "Artist in the Classroom Program" in Sedona, Arizona.

John's vision is to uplift people and the planet with high vibrational beauty. His customers range from conscious leaders to influencers and celebrities who strengthen
their energy fields with his adornments and sculptures.

Working out of his artist studio in the heart of Sedona, Arizona, John can often be found mountain biking and hiking the magnificent Red Rocks, immersed in the vortex energies, surrounded by nature, his greatest inspiration.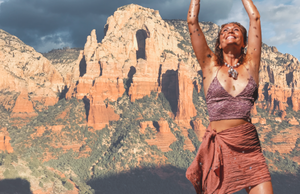 Bespoke Creations
Have John tune into your Higher Self and intuit frequencies that are most suited to your specific vibrational needs.
Learn More